Come nasce un capolavoro? Come si riscrivono le leggi delle Serie Tv? Non è facile ottenere delle risposte. Forse in questi casi le risposte non esistono, esiste solo la pratica. Non c'è un tutorial, non ci sono leggi scritte. Forse, in alcuni casi, nessuno dei creatori era cosciente di star dando vita a un capolavoro capace di riscrivere le leggi della serialità, dando inizio a una nuova era. Probabilmente Vince Gilligan non ne aveva idea quando – nel lontano 2008 – esordiva con la sua prima stagione di Breaking Bad. Chi si approcciava per la prima volta a questo futuro colosso delle Serie Tv non poteva sapere cosa sarebbe stato, cosa sarebbe stato in grado di creare ed essere. Ci si limitava a pensare a un professore insoddisfatto e malato di tumore che, a un certo punto, sceglie di lasciare qualcosa di economicamente consistente alla propria famiglia tramite un mezzo illegale. Ma Breaking Bad non può essere limitato a questo. Questa descrizione è la copertina di un libro che nasconde tra le pagine l'evoluzione di un uomo, la trasformazione lenta e graduale di chi comincia a non avere più paura del potere, riuscendo non solo a dominarlo, ma anche a creare un impero.
Ma come ogni cosa brutta, anche le cose belle finiscono. Dato il successo esponenziale del suo prodotto, Gilligan avrebbe potuto continuare e lucrarci sopra all'infinito, ma quel che c'era in ballo – il perfetto equilibrio, la magistrale scrittura – valeva più di ogni stagione in più. Ed è così che Breaking Bad si ferma con una quinta stagione che scrive un finale perfetto, degno di tutto il lavoro compiuto fino a quel momento. A due anni dalla sua fine, Gilligan torna con una nuova storia di cui tutti avevano il terrore: sbagliare e non essere all'altezza era un'operazione semplice, quasi scontata agli occhi dei fan. Credevano in Gilligan, ma non pensavano ci potesse essere qualcosa capace di competere con Breaking Bad, non sapevano si potesse replicare il passato. Eppure, durante l'anno 2015, ognuno di noi impara a ricredersi, ritrovando ancor più fiducia nel mondo seriale. Breaking Bad aveva scritto una nuova era delle Serie Tv, e questa stava realmente continuando, non era morta. Avevamo ancora l'occasione di rivivere quel racconto magistrale, ma stavolta da una nuova prospettiva. Ed è così che – sorpresi – ci lasciamo travolgere tra le braccia di Better Call Saul, lo spin-off per eccellenza nel mondo delle Serie Tv.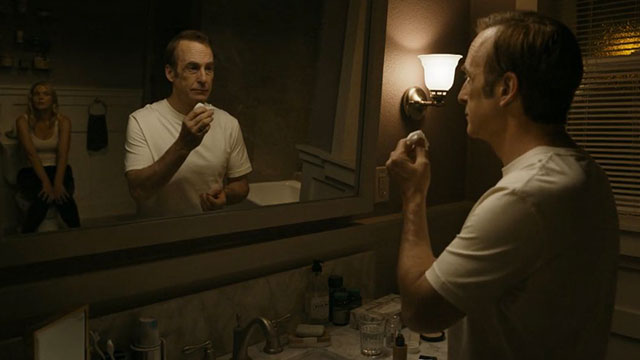 Cos'hanno in comune le due serie, a parte l'ovvio collegamento? Due dettagli: uno abbastanza chiaro, e un altro su cui spesso ci si sofferma troppo poco e dunque sarà importante fare una una riflessione.
Il primo dettaglio che collega le serie riguarda l'evoluzione dei due protagonisti. Entrambi si presentano a noi in un determinato modo, ma le cose cambieranno senza che nessuno dei due sia in grado di accorgersene. Saul e Walter sono due insoddisfatti, due protagonisti che – fino a quel momento – avrebbero voluto, ma non hanno potuto. Soltanto con il passare delle stagioni le cose cambieranno, portandoli a conoscere un lato oscuro e forte, uno di quelli che sarà capace di salvarli e ucciderli allo stesso tempo. Ma Better Call Saul e Breaking Bad – come detto – condividono anche un altro aspetto, uno di quelli a cui forse prestiamo minore attenzione, ma che invece ha fatto il successo della serie con grande percentuale: il cast.
Inutile negarlo: il cast di una serie è uno dei dettagli che più ci balza agli occhi quando decidiamo di guardare qualcosa. Certo, non è garanzia di buona riuscita: molto spesso abbiamo dovuto fare i conti con cast stellari che non sono riusciti a soddisfare le aspettative, a dispetto di altre Serie Tv in cui i volti meno noti riuscivano nell'ardua impresa. A Vince Gilligan non è importato dei grandi nomi, a lui è interessato far diventare grandi i nomi da lui scelti, e ci è riuscito. Ci è riuscito eccome. Lo ha fatto fin dall'inizio, fin dalla scelta del protagonista. Bryan Cranston era per lui il perfetto Walter White, l'unico attore capace di dar vita al lato compassionevole e ripugnante di quell'uomo che avrebbe scritto la storia con la sua evoluzione.
I dirigenti dell'emittente AMC non erano convinti di affidare un ruolo così complicato a Cranston perché – fino a quel momento – il suo ruolo più iconico era inerente a Malcolm In The Middle, un prodotto valido ma distante da Breaking Bad. Ma a Gilligan non importava, lui aveva visto quel che gli serviva, e lo stesso valeva per il resto delle scelte.
Aaron Paul, prima di essere scelto per il ruolo di Jesse Pinkman, stava cercando di farsi strada all'interno della recitazione con diverse apparizioni anche in prodotti di successo come Costi quel che Costi, Mission: Impossible III. Dopo quel momento le cose cominciano ad andare meglio portandolo a prender parte anche a diverse Serie Tv in ruoli minori come Veronica Mars, Big Love, Criminal Minds. Nulla di indimenticabile, ma non per Vince Gilligan che per lui scelse di modificare il piano originario di Breaking Bad. L'attore era stato infatti scelto per un ennesimo ruolo breve – Jesse doveva morire durante il secondo episodio – ma, una volta capito l'errore che stava per commettere, Gilligan cambiò le sorti del personaggio creandolo come sappiamo. Questo ruolo permise ad Aaron Paul di collezionare ben tre Emmy come migliore attore non protagonista.
Ancora una volta, Vince Gilligan fece quella che poi si sarebbe rivelata la scelta giusta, quella capace di cambiare le sorti di uno dei prodotti che, senza questo cambio di rotta, non sarebbe forse riuscito a essere tutto quel che alla fine è stato. E' innegabile, infatti, che il rapporto tra Jesse e Walter sia stato fondamentale all'interno della serie.
Ma questo non funzionò soltanto per gli attori principali, bensì anche per il resto dei personaggi come Hank. L'attore che lo interpreta, infatti, prese parte a diverse Serie Tv e film per il cinema, ma la vera svolta gliela diede davvero Gilligan, permettendogli finalmente di consacrarsi.
Oltre questo grande personaggio, Breaking Bad ne costruì altri che si sono rivelati a noi soltanto nel corso degli episodi. Saul Goodman era certamente l'ultima persona su cui avremmo mai scommesso per un eventuale spin-off, ma Gilligan ha una mente capace di vedere oltre ai confini. Nella sua testa era già tutto chiaro, così come lo era stato quando all'epoca scelse Bob Odenkirk per il ruolo, un attore che fino a quel momento aveva scritto la sua storia con il peso di un rimpiazzo importante. Bob era stato infatti scelto per subentrare al posto di Steve Carell in The Office, ma quando l'attore tornò sui suoi passi lui venne prontamente salutato. E' chiaro che un ruolo così importante sembrò un'occasione persa ma, come si dice, ogni porta apre un portone, e a tenere la maniglia aperta in quel caso c'era niente poco di meno che Vince Gilligan, colui che gli ha dato la possibilità di far parte delle due Serie Tv capolavoro dell'ultimo ventennio.
Lo stesso potremmo dire di Jonathan Banks, l'attore interprete di Mike Ehrmantraut. Alle sue spalle vi è una carriera piena di diverse esperienze – ricordiamo L'Aereo più Pazzo Del Mondo, Beverly Hill Coop – ma la sua vera popolarità e il riconoscimento da parte del gran pubblico arrivarono soltanto con Braking Bad e, soprattutto, Better Call Saul. Sappiamo che nessuno dei personaggi di riferimento alla serie possa essere catalogato davvero, ma per il suo personaggio le cose andarono decisamente in modo diverso. Mike è stato infatti capace di provocare in noi un sentimento di tenerezza misto a uno di fascino, nonostante tutto. In lui scorgiamo una freddezza a un distacco che si manifestano come il suo punto di forza e come il punto di debolezza. Gli occhi di Banks sono riusciti a restituirci dolore, apatia e delicatezza nel giro di pochissime scene, dando vita a una perfomanse attoriale di alti livelli. Il talento di Banks è stato chiaro fin dall'inizio, e Gilligan – come un cane da ricerca – ne ha saputo riconoscere l'odore.
Concludiamo questo viaggio all'interno del cast di Better Call Saul e Breaking Bad con Rhea Seehorn, l'attrice che interpreta Kim Wexler.
Rhea ha preso parte a diversi prodotti seriali tra cui Whitney, The Starter Wife. Le sue, a parte quelle appena menzionate, erano occasioni che si traducevano spesso in ruoli marginali dal breve periodo di una sola puntata. Ma l'occhio di Gilligan non ha chiesto niente meno che il talento, infischiandosene delle esperienze o del gran nome. Anche in questo caso dunque – così come negli altri menzionati – Gilligan ha preferito riscrivere le sorti di alcuni degli attori più sottovalutati di sempre vedendo quanto – una volta data loro la possibilità – siano stati in grado di dar vita a un capolavoro. Da quel momento le porte della serialità – e non solo – per loro non sono soltanto aperte, ma ne custodiscono le chiavi. Il loro decisivo contributo ha riscritto le leggi della serialità e nulla sarebbe stato perfetto come adesso senza il loro talento, fino a quel momento ancora così poco esplorato. Interessante, inoltre, che la maggior parte di questi attori provengano dal mondo delle comedy e si siano ritrovati (vari di loro in età avanzata) a interpretare egregiamente alcuni dei ruoli drammatici più iconici nella storia della televisione. Anche qui, Gilligan si merita l'appellativo di visionario, perchè ha letteralmente visto ciò che probabilmente nessun altro avrebbe potuto vedere.
Breaking Bad e Better Call Saul sono tantissime cose e, tra le tante, sono anche il posto in cui questi grandi attori hanno trovato il loro riscatto. Ed è forse anche per questo che sono riusciti a interpretare in modo così divino i personaggi dell'universo Breaking Bad: in modi diversi e con le dovute proporzioni quei personaggi erano il loro omologo finzionale, e dietro la rabbia di Walter o di Saul che cresceva imperiosa per essere stati sottovalutati per troppo tempo, c'era anche quella di attori mostruosi in cui fino a quel momento nessuno aveva mai creduto fino in fondo.